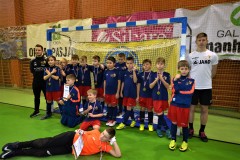 Weekend kończący ferie zimowe w województwie lubuskim był bardzo wymagający dla zespołu Orlików Młodszych…  zawodnicy stanęli przed trudnym wyzwaniem!
Sezon zimowy już w pełni, dlatego zaczynamy naszą przygodę z zimowym halowym graniem! W ten weekend trzeci zespół orlika wziął udział w dwóch Halowych Turniejach!
W sobotę młodzi piłkarze wybrali się do Dębna, by tam rozegrać swoje spotkania. Po ciężkich przeprawach w fazie grupowej trafiamy do małych półfinałów. Niestety po momentach dokładnej  przemyślanej gry, popełniamy najprostsze boiskowe błędy – w rezultacie czego tracimy bramki… W meczach, w których mogłoby się wydawać, że prowadzimy grę, brakuję skuteczności, co w głównej mierze przekłada się na wynik końcowy.
Bogaci w zdobyte doświadczenie wracamy do Gorzowa, by na drugi dzień rozegrać Turniej z cyklu "Gra WARTA Świeczki", którego jesteśmy gospodarzami! W turnieju wzięło udział 8 drużyn z naszych okolic, oraz jedna przybyła z województwa zachodniopomorskiego! Wśród nich znalazły się: Akademia Lubuszanin Drezdenko, Czarni Witnica, UKS Torzym, R-Football Goleniów, dwa zespoły Spartaka Deszczno, oraz również dwa zespoły gospodarzy Akademii Piłkarskiej Warta Gorzów.
Nie ulega wątpliwości, że chłopcy wyciągają wnioski z Turnieju w Dębnie, wygrywając mecz otwarcia. Wspaniały początek zwiastował bardzo dobre zawody w naszym wykonaniu! Kolejne mecze to również ułożona, konsekwentna gra… lecz nadal bez wystarczającej skuteczności – wiele sytuacji bramkowych zostało zmarnowanych uderzeniem w bramkarza lub obok bramki. Wniosek ? Pracujmy nad finalizacją
Po wyjściu z fazy grupowej okazało się, że oba zespoły AP Warta Gorzów zmierzą się ze sobą w drodze po miejsce w pierwszej piątce turnieju! Niestety… jedna drużyna musiała zostać wyeliminowana. Stało się to dopiero po serii rzutów karnych! W wielkim finale zmierzyły się zespoły Spartaka I Deszczno oraz R-Football Goleniów. Zwycięsko z batalii wyszedł zespół gości z Goleniowa i zajmuje pierwsze miejsce w całym turnieju!
Ostatecznie gościnnie kończymy zawody na szóstym i ósmym miejscu w końcowej klasyfikacji.  Dziękujemy wszystkim uczestnikom, zaproszonym zespołom  za sportową postawę do samego końca, oraz  rywalizację w przyjaznej atmosferze!
Wielki ukłon w stronę rodziców, którzy pomogli w organizacji całego wydarzenia, a także za ich zagrzewający do walki doping podczas spotkań!
KLASYFIKACJA TURNIEJU:

1 miejsce:      R-Football Goleniów
2 miejsce:      Spartak I Deszczno
3 miejsce:      Spartak II Deszczno
4 miejsce:      UKS Torzym
5 miejsce:      Czarni Witnica
6 miejsce:      AP Warta II Gorzów
7 miejsce:      Lubuszanin Drezdenko
8 miejsce:      AP Warta I Gorzów