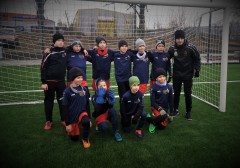 W niedzielny poranek zespół Orlika Młodszego zameldował się na Stadionie Stilonu Gorzów, by sprawdzić swoje siły w Turnieju Stilon Prosupport Cup 2018! Zebrane doświadczenie zaprocentuje!
W niedzielę (tj.02.12.2018r) zespół Orlik III wystąpił w w turnieju organizowanym przez Akademię Stilonu Gorzów! Na turniej stawiły się na prawdę doskonałe zespoły – nie tylko z Gorzowa, ale z całego Województwa! Przyszło nam rywalizować z wieloma silnymi akademiami  takimi jak: Bosko Sulęcin, Stilon Gorzów, Progres Gorzów, APMM Falubaz Zielona Góra, czy Perła Cybinka.
To doskonałe doświadczenie dla naszych dzielnych chłopców, skonfrontować się z tak dobrze grającymi zawodnikami. Pokazuje to nam w jakim kierunku należy dalej się rozwijać, na jakie boiskowe szczegóły zwracać uwagę i co poprawić w swojej grze.
Niestety nie udało nam się zwyciężyć – przeciwnik był zbyt wymagający. Mimo to praca została wykonana, zaangażowanie było ważniejsze od wyniku!
Pracujemy dalej i wrócimy silniejsi!
KADRA: Kołupajło (bramkarz), Hynek, Wołoszyn, Broszko, Dubiel, Chudy, Krawczyk, Słowik, Sienkiewicz, Krawiec