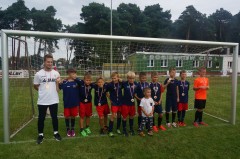 W miniony weekend zespół ORLIK III wybrał się do Dobiegniewa, by tam rozegrać Turniej z okazji 100 – lecia Odzyskania Niepodległości przez Polskę. W turnieju wzięło udział 10 drużyn, więc grania było wyjątkowo dużo…
W minioną sobotę wiele dzieci  korzystając z ostatniej okazji żeby się wyspać przed rozpoczęciem roku szkolnego bardzo długo zbierało się z łóżka – tak to ostatni weekend wolnego! Dla naszych zawodników jednak lepszą formą wypoczynku jest gra w piłkę nożną! Z samego rana w Dobiegniewie zjawili się młodzi piłkarze, by rywalizować ze sobą w Turnieju zorganizowanym z okazji 100 – lecia Odzyskania Niepodległości przez Polskę.  To bardzo dobry pomysł, by upamiętnić to niezwykle ważne wydarzenie. Po oficjalnym rozpoczęciu Turnieju i odśpiewaniu hymnu,  wszyscy przenieśliśmy się już na boiska, by rozegrać swoje mecze.
Turniej w wyższej kategorii, dla naszych chłopców był pierwszym rozgrywanym w tym formacie! Dużo większe boisko i bramki, całkowicie inne ustawienie na boisku, nowe pozycje – to duża zmiana dla zawodników, grających jeszcze nie tak dawno w kategorii ŻAK. Chłopcy grając przeciwko bardziej doświadczonym, oraz starszym zawodnikom, pokazali, że nie brak im ambicji i woli do walki. Mimo, że nie udało się wygrać żadnego meczu, wyjazd na ten Turniej był niezwykle cenną lekcją dla młodych "Warciarzy".
Wracając z Dobiegniewa mamy obraz nad czym popracować, czego nam jeszcze brakuje, ale również co jest naszą mocną stroną.
Dziękujemy organizatorom Błękitni Dobiegniew za zaproszenie na Turniej oraz miłe przyjęcie!
Podziękowania kierujemy również w stronę rodziców zawodników, za obecność i jakże wspaniały doping!
Tymczasem wracamy do treningów – do zobaczenia na boisku!