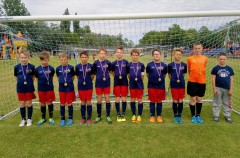 W miniony weekend zawodnicy zespołu Orlik III rozegrali swój ostatni Turniej Ligowy "Bez presji wyniku". Pogoda tym razem dopisała – doskonałe warunki do rozgrywania spotkań… i nie tylko!
W miniony weekend młodzi piłkarze ponownie wybrali się do Kostrzyna nad Odrą by rozegrać już piąty – ostatni turniej z cyklu "Gramy bez presji wyniku"  Pomimo głównej zasady rozgrywek gramy bez presji wyniku, każdy zespół stawił się na miejscu rozgrywek zmobilizowany – aby w tej ostatniej kolejce zdobyć jak najwięcej bramek i wygrać jak najwięcej spotkań!
Runda wiosenna w wykonaniu młodych Warciarzy to wzloty i upadki podczas naszych rozgrywek. Kapitalne mecze w których kontrolowaliśmy przebieg spotkania poprzeplatane zostały tymi słabszymi – w których brakowało decyzji, odwagi czy też zaangażowania.
Boisko rządzi się swoimi prawami i wiadome jest, że dopóki walczysz – jesteś zwycięzcą.
To dla nas bardzo cenna lekcja w postaci rozegranych pięciu turniejów, która na pewno zaowocuje już w przyszłym sezonie.
Wszyscy piłkarze biorący udział w rozgrywkach zostali odznaczeni pamiątkowymi medalami – a po oficjalnym zakończeniu wszyscy zawodnicy przenieśli się na wielkie grillowanie! Nie trwało to jednak zbyt długo – bo już o 17:00 spotkaliśmy się na Stadionie Warty Gorzów, aby wspólnym dopingiem pomóc starszym kolegom zwyciężyć w ostatnim spotkaniu III ligi!
Dziękujemy naszym kolegom z Kostrzyna i Rzepina za świetnie spędzony czas i sportową walkę – do zobaczenia na boisku!
KADRA:
Kołupajło, Słowik, Broszko, Chudy, Sienkiewicz, Kopienka, Polewicz, Wołoszyn, Poźniak, Krawczyk